Discover more from Marcin Konkel's newsletter
Gain more leverage in adaptability, process as well as understanding of human behaviour. All this to create sustainable, hyper-productive teams and focused organisations where people and products flourish.
How the Balinese custom of Nyepi can help your team recharge? 👹
Nyepi is the Balinese "Day of Silence" 🤫 It marks the beginning of a New Year. It started last Wednesday, Mar 22nd, at 5:59 AM. On Nyepi, the whole island shuts down for 24h to cleanse from the previous year's misdoings.
Hindu or not, everyone must stay at home, keeping noise and lights to a minimum. It's a day dedicated to self-reflection as well as renewing the island and the universe. All shops and restaurants are closed. Even ATMs are switched off on the whole island. The streets are empty.
The day before Nyepi, in the evening, Ngrupuk parades are conducted throughout the island, together with Ogoh-ogoh statues built especially for the occasion. Ogoh-ogoh are huge papier-mâché monsters that roam the streets and turn in circles on intersections. The intention is to purify the island from spiritual pollution, which is believed to "go into" the figures. The monsters are then set ablaze on the beaches as a symbol of cleansing.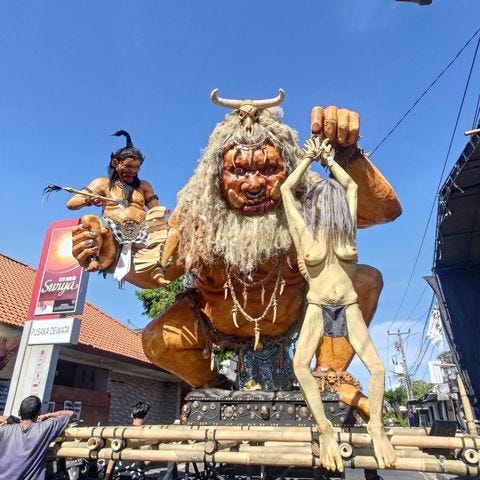 More visuals you can find here and here.
OK, what does this have to do with my team? 🤷🏼‍♂️ Glad that you asked. I will explore two contexts - being off the grid and dealing with negative influences.

Off the grid 🔌
On the job, especially remotely, we are connected all the time. We are checking Slack messages, e-mail or reacting to Zoom fatigue through coping behaviour like intensely scrolling Facebook, Instagram or TikTok.
Planning time "off the grid" in your team can help people reduce tensions and stimuli as well as help in gaining more focus. Some things to try:
Days without meetings - set a day a week and agree with stakeholders that the team won't respond to Slack messages, e-mails or any other means of communication during this time. This time is dedicated purely to focused work. You can also:

Set aside designated hours each day instead of a full day.

Rotate one person weekly to tackle incoming communication during off-the-grid hours.

Exit the office - a change of context can push you into new creative areas. I tried:

'Walk and talk' sessions with my manager where we would walk in the park around the office and discuss business matters.

Conducting retrospectives with my team in a park or a restaurant to finish the day on an every-now-and-then basis.

Visiting one another while travelling and working remotely. I held three such meetings in Bali, Indonesia, with colleagues from my company. Others I know of rented a house for a month, as a group, in Tenerife, Spain or Colombo, Sri Lanka, to work and spend time together.

Off-sites held outside corporate offices - spending time without laptops, surrounded by nature, in a self-organising event, for example, using the concept of Open Space Technology. Read more below 👇🏼
Cleansing 🤲🏼
Each team working with one another for at least a bit will encounter tensions within or outside the group. After some time, many of those situations remain open threads sucking the energy out of people.
Yes, retrospectives or similar meetings are where those topics should emerge. That said, there rarely is time to go through everything. What is worth trying:
Doing regular half-year or quarterly retrospectives - they don't need to be long. Those concentrate on the team's progress across time in terms of product, process, relationships and communication. Seeing the progress can close some of the 'we are still struggling' loops.

Team or individual outro - do an outro at the end of the day or a work-week where you:

Set aside 15-30 minutes even when nothing comes to your mind. Your brain needs to release the pressure so things will start popping up.

List all open topics and close them by, for instance, mentioning what you will start with the next day/week, so your brain does not need to analyse or remember it.

Follow the tension on your regular retrospectives - don't plan yet another elaborate exercise. Focus on the topics the team avoids or which bring tension. Try to unpack them together with respect. This will bring more change and recharge than a handful of action points. Read more below👇🏼
What are your ways to recharge a team? Share them in the comment section. If you enjoyed the above you might also be interested in this article:
🎈Share this post if you think it can help a team to recharge or start talking about their health.